Writer's Night returns!
Our second installment on the Writer's Night calendar is quickly approaching! This go around, we'll be at Book Exchange in Marietta, Saturday April 30th from 5-7 p.m.! As before, there will be food, drinks, socializing and, of course, a featured speaker from this year's conference! So, take some time away from writing, power down the laptop, steel yourself for some friendly conversation and spend some needed time with fellow writers!
For this Writer's Night, we are pleased to announce our featured author will be Colleen Oakley!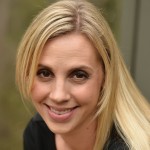 One of Atlanta's great new voices in fiction, Colleen Oakley's debut novel Before I Go was a People Magazine Best New Book Pick in January 2015, an Us Weekly "Must" Pick, and a Publisher's Lunch Buzz Book. Formerly the senior editor of Marie Claire and editor-in-chief of Women's Health & Fitness, Colleen's articles, essays, and interviews have been featured in The New York Times, Ladies' Home Journal, Marie Claire, Women's Health, Redbook, Parade, and Martha Stewart Weddings. She is hard at work on her second novel, Close Enough to Touch, due out April 2017.
It is our hope to continue hosting Writer's Night events throughout the year, leading to the First Annual BWA Conference in September. In addition to offering an event designed to create a community–one that encourages writers to join en masse to offer support, discuss ideas, projects, and life in general–we also want to keep solid attention on the many quality independent bookstores in the area. So, come out, have some fun, throw some support to Book Exchange, and help us build a writing community!
We have a great deal in works for this year and beyond. For the latest updates and news, please sign up for our newsletter, 'like' us on Facebook, or follow us on Twitter!
Please follow and like us: