We are thrilled to announce that Paul Jenkins is the 2016 BWA Conference Keynote Speaker! With an incredible list of accomplishments in the writing industry, Paul brings his indelible energy and expertise to our talented cast of writers! Be sure to be a part of what is shaping up to be the premiere writing conference in the Southeast! Register now!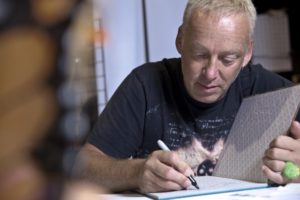 Paul Jenkins has been creating, writing and building franchises for over 20 years in the graphic novel, film and video game industries. From his employment with the creators of the Teenage Mutant Ninja Turtles at the age of 22 to his preeminent status as an IP creator, Paul has provided entertainment to the world through hundreds of print publications, films, video games, film and new media. With 6 Platinum selling video games, a Number One MTV Music Video, an Eisner Award, Five Wizard Fan Awards, and multiple Best Selling Graphic Novels, Paul Jenkins is synonymous with success. He has enjoyed recognition on the New York Times bestseller list, has been nominated for two BAFTA Awards, and has been the recipient of a government-sponsored Prism Award for his contributions in storytelling and characterization.
One of the premier creators and writers of comic books and graphic novels and video games in the world today, Paul's writing credits include the Teenage Mutant Ninja Turtles, Hellblazer, Inhumans, Spider-Man, Batman, The Incredible Hulk, the smash hit Wolverine: Origin, for which he won five Wizard Fan Awards. He recently completed the first of two novels – entitled Curioddity – for St. Martin's Press, which will be released in August of 2016. Paul is currently working with Nickelodeon on a brand new series, Underwhere, which is being developed across all media. He also recently wrote and directed Teenage Mutant Ninja Turtles animation for Nickelodeon. Additionally, Paul's work as Writer and/or Creative Director in the video game genre includes Twisted Metal: Black, Soul Reaver, Incredible Hulk: Ultimate Destruction, God of War and many others. 2007's The Darkness earned him a BAFTA nomination for storytelling and characterization, as did Vivendi Universal's 2008 smash hit Prototype.
Formerly a consultant on the advisory board of Savannah College of Art and Design (SCAD), Paul is currently devising a cross-media program in Georgia with the Joel Katz School of Music and Business Entertainment at Kennesaw State University, where he also teaches. He was asked by Governor Nathan Deal to assemble and chair an advisory committee to educate the Georgia General Assembly on the evolution of digital and interactive technologies.
Please follow and like us: